Congratulations to senior, River Costin, for being chosen as the CHS Student of the Year! Junior Burke, owner of Riggin-Pillatsch & Burke Funeral Home, presented River with a $500 check on Friday, May 13.
Freshman, Mercedes Levesque, was awarded the Green 13 award through the Lead Em' Up program on Monday. Mercedes was nominated by her classmates and joined the Green Team (a special team for outstanding students) back in January during LEAD class. Last week, Mercedes was selected by her peers as the MVG (Most Valuable Green) member out of the entire freshman class. She was then nominated by LEAD teachers, Mrs. Neally and Mr. Emrick, for the Green 13 award out of the Lead Em' Up program. The Green 13 is chosen from a number of students across the United States and Canada. From here, the Lead Em' Up program chose her as a winner! Congratulations Mercedes!
CHS Newsletter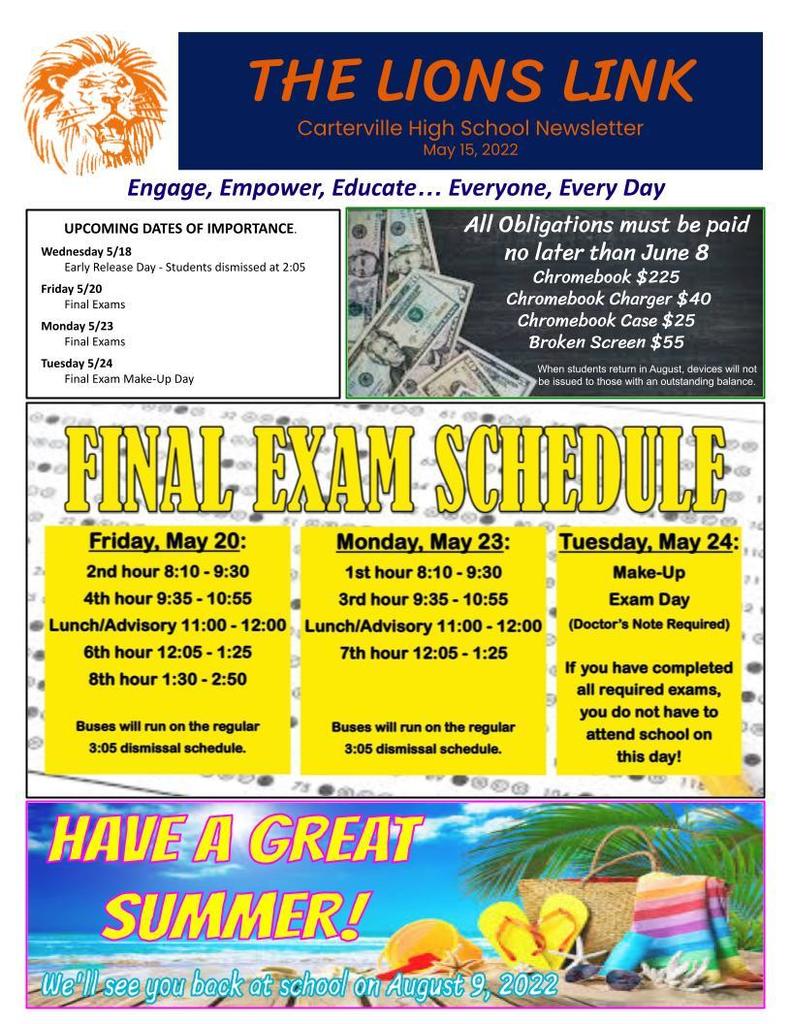 This week's schedule of events. Postseason play fires up! Go Lions!

This week's schedule of events. Go Lions!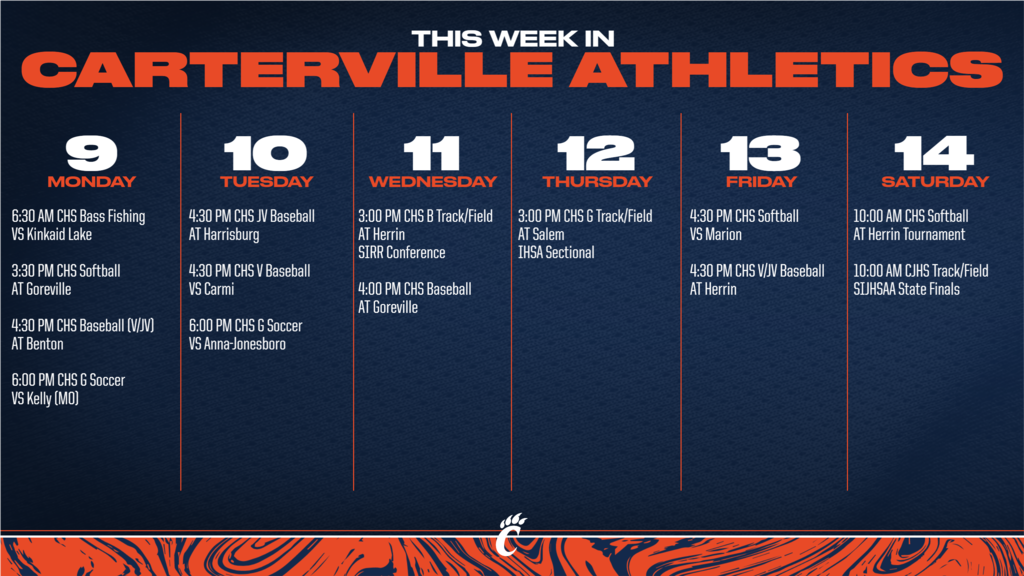 The Carterville High School FBLA chapter hosted an advisory competition in order to collect items for the Gum Drops program. Classes earned points based on the types of items donated. Mr. Wilhelm's advisory class won the competition and will celebrate with a pizza party. Overall, CHS students and faculty donated over 925 items. Thank you to everyone that participated!
Six of our top seniors were honored last night at the annual Southern Illinois Society for High School Achievement banquet. Pictured from left to right: Isabella Mavigliano, Tyler Shasteen, Dylan Stanley Jace Lintz, Andrew Stephenson and Grace Mitchell
Check out the newsletter and theme days for Teacher Appreciation Week. We have are so thankful for our amazing teachers at CHS and are hopeful that our students will join in on the celebration!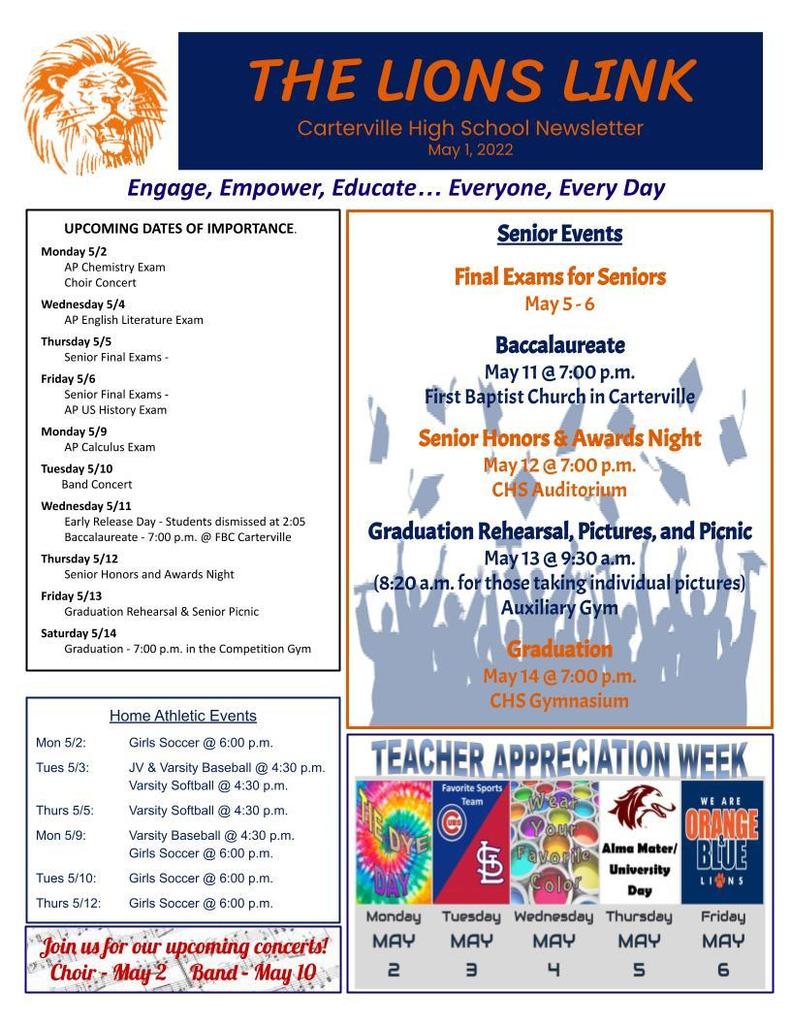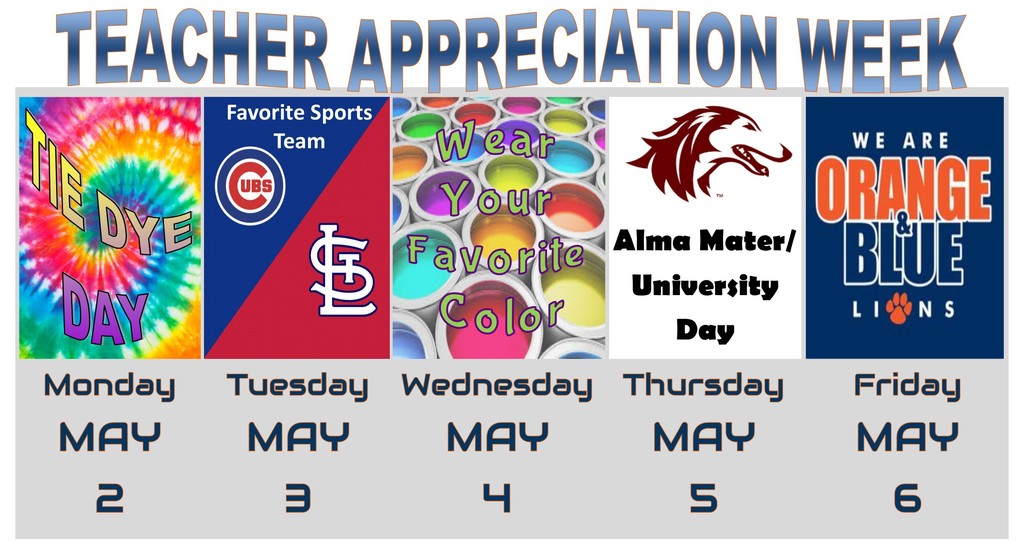 This week's schedule of events. Go Lions!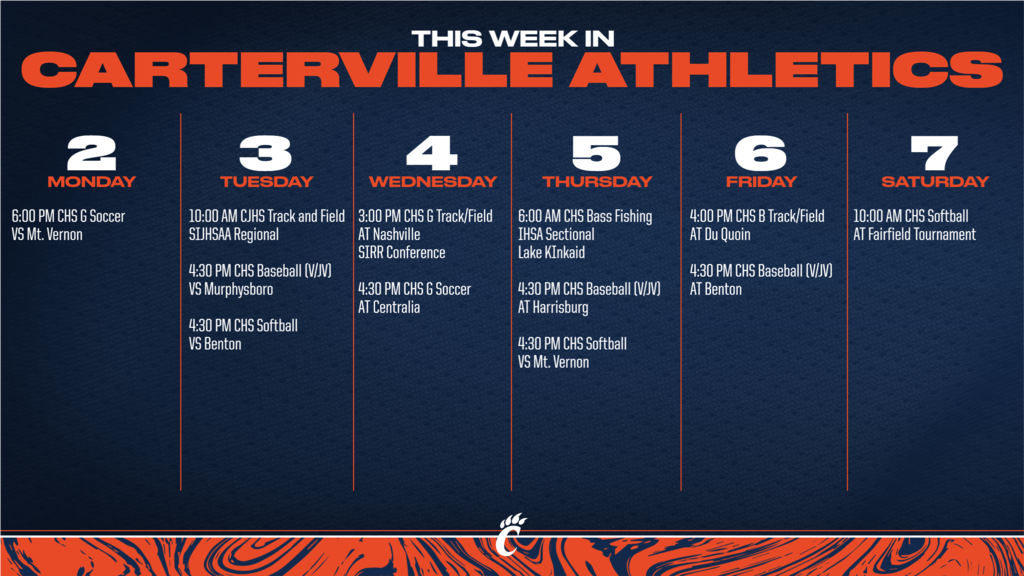 Juniors Kayce Glenn and Paige Mausey finished in 6th Place in Yearbook Theme Development at the IHSA Journalism State Contest this past Friday. This was only our 2nd year competing and first year in person. They are the first CHS students in school history to place at this IHSA event, congratulations!

This week's schedule of events. Go Lions!
Congratulations to Eesha Gowda and Sean Taylor, recipients of the IPA award! These seniors were honored on Tuesday night during a banquet at SIUC.

This week's schedule of events. Go Lions!
CHS Newsletter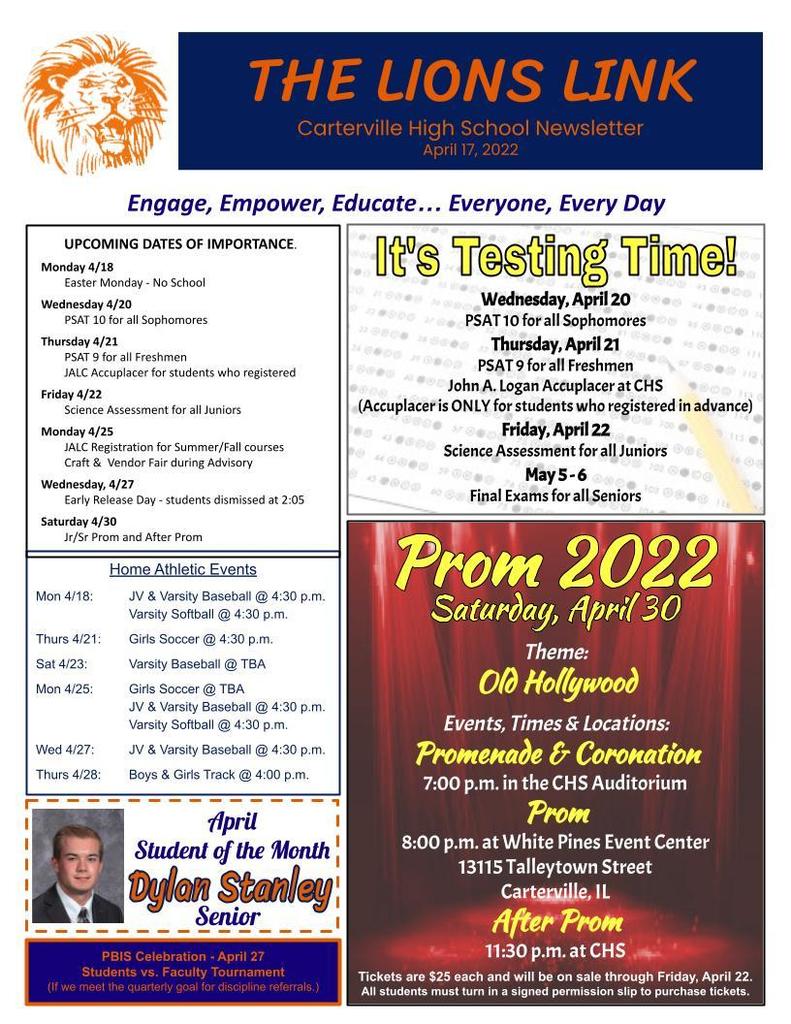 Congratulations to the following students that qualified for the IHSA Journalism State Finals on April 22 in Bloomington: Fallon Carney (11) - News Writing Paige Mausey (11) and Kayce Glenn (11) - Yearbook Theme Development Dani Scott (10) - Sports Writing Hailey Bolen (9) - Yearbook Caption Writing
The Interact Club and Student Leadership Council hosted an egg hunt for CHS students, with proceeds benefitting the Gum Drops Program. Thanks goes out to Mrs. Martin and Mrs. Dawson for organizing this event!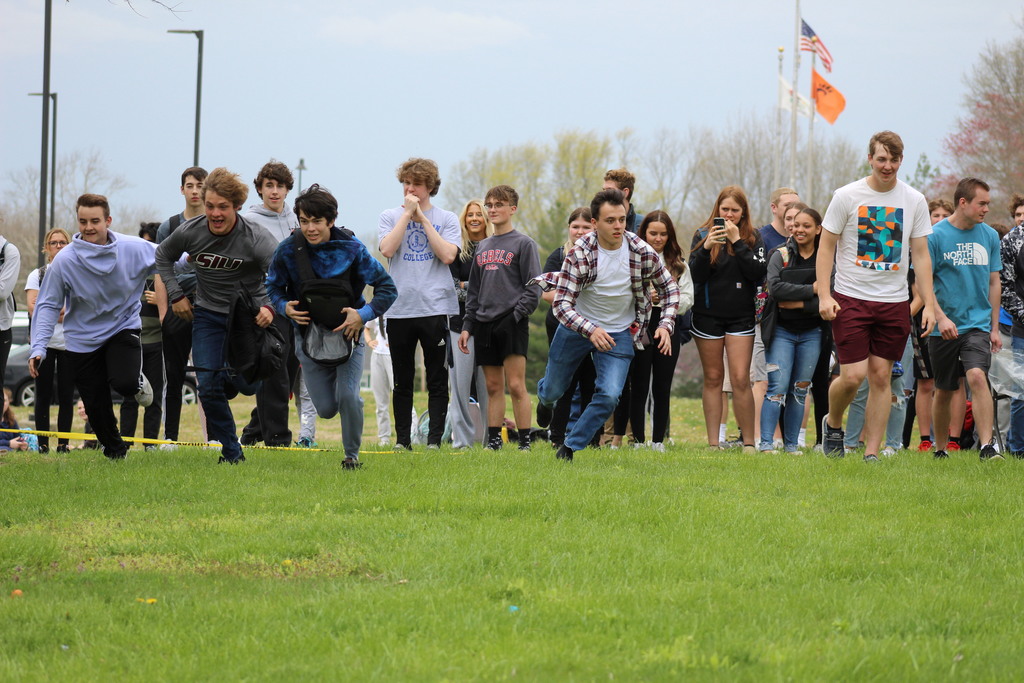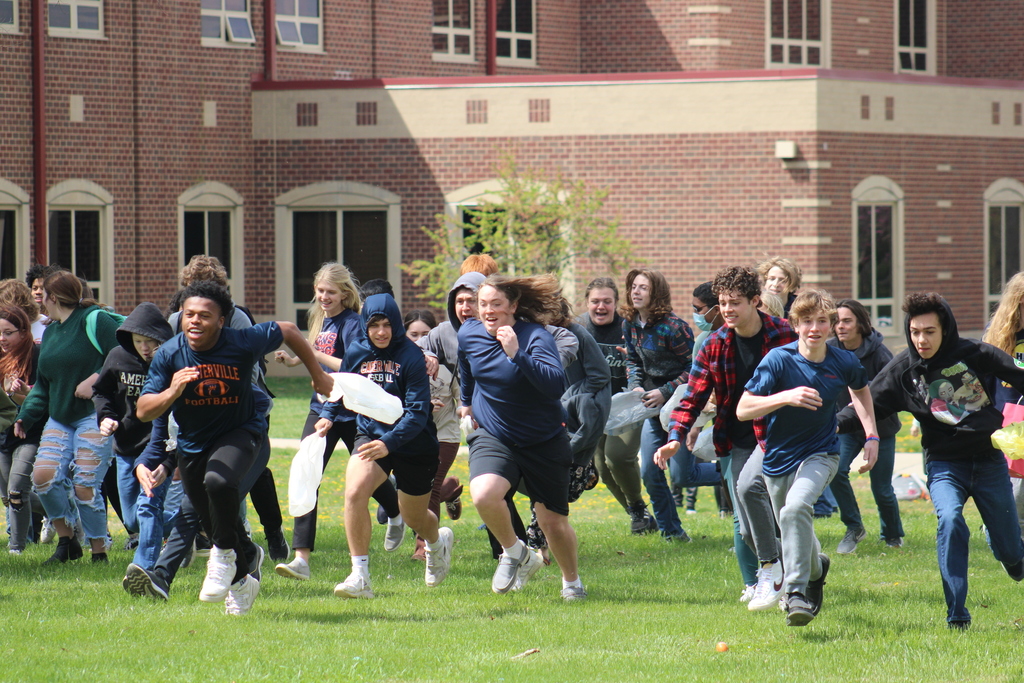 CHS Choirs had a big weekend! Congratulations to the cast of Godspell and the CHS Concert Choir and Chamber Singers for both receiving 1st place ratings at the IHSA Organizational Contest on Saturday. Out of 8 vocal rooms at the IHSA Solo and Ensemble Contest, four judges awarded Carterville singers the Best of Day award. Winners were: Olivia Rogers, treble solo Bryson Edwards, bass solo Makayla and Madison Ripley, treble ensemble Grace Arnett, Amelia Booker, Adeline Wagner and Abigail Banks, treble ensemble
Congratulations to the Carterville High School FBLA team! They competed this past weekend at the FBLA State Leadership Conference. The following students qualified for the National Leadership Conference this summer in Chicago: Ethan Garbe, Prisha Kittu, Evan Lennox, Tyler Shasteen, Dylan Stanley and Winston Suni
CHS Newsletter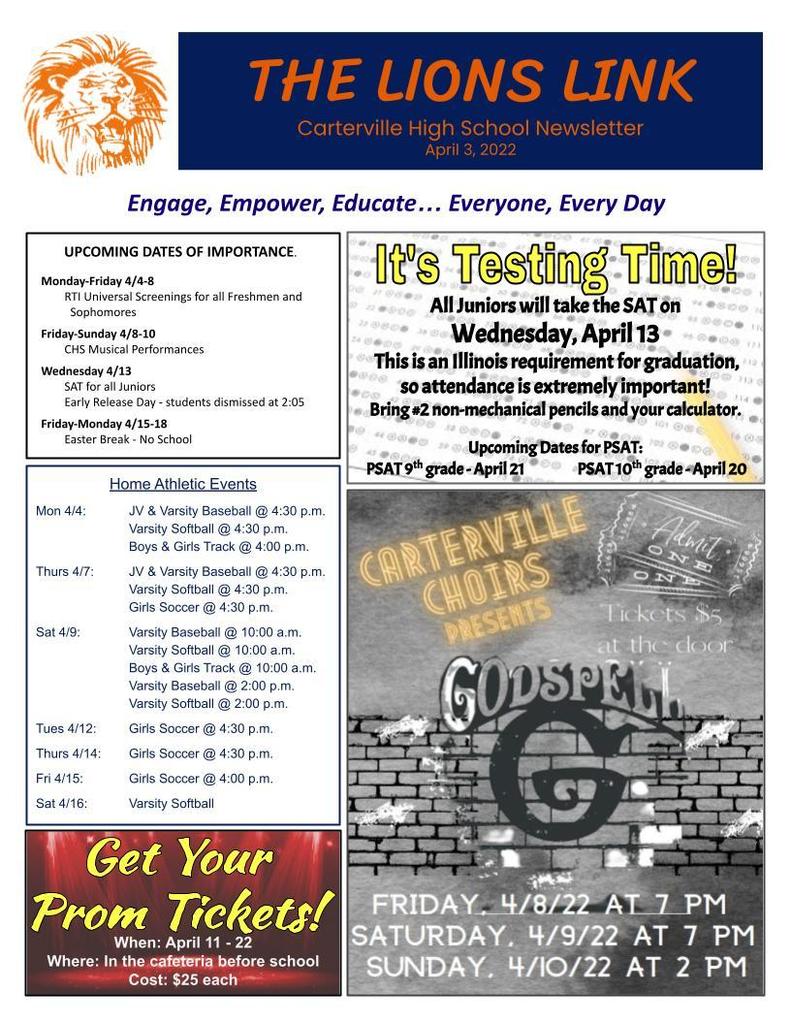 Congratulations goes out to the Carterville ACES team for their Sectional win and perfect score of 500! The entire team will be competing at State in April. Team members include: Chris Bates, Rachel Brunner, Eesha Gowda, Haresh Kittu, Jace Lintz, Alec Morley, Hunter Noto, Ella OBrien, Olivia Rogers, Tyler Shasteen, Andrew Stephenson , Winston Suni, Sean Taylor and Braden Wright